IKEA won't just be your conventional furniture retailer anymore.
The Swedish design juggernaut is making its foray into IoT with its decision to invest heavily in its smart home division. IKEA Home Smart will operate as its own business unit, responsible for its smart home business end to end, according to its August announcement.
"At IKEA we want to continue to offer products for a better life at home for the many people going forward. In order to do so we need to explore products and solutions beyond conventional home furnishing," said Björn Block, Head of the new IKEA Home Smart Business Unit at IKEA of Sweden, in a press release from the company.
It's a great time to be investing in smart home solutions, too. IDC predicts global sales of about 830 million smart home devices in 2019 and eventually doubling to 1.6 billion in 2023. With such clear upsides, IKEA is getting into the industry at a pivotal time.
"We have decided to invest significantly in Home Smart across IKEA to fast-forward the development. This is the biggest new business we are establishing since the introduction of Children's IKEA," says Peter van der Poel, Manager IKEA Range & Supply.
IKEA's Platform Agnostic Approach in the Smart Home
What makes IKEA's smart home entrance particularly innovative is that they've announced their intention to remain completely platform agnostic. While Amazon, Google, and Apple battle each other to become the single, dominant smart home platform, IKEA is taking a more amicable approach to the competition. The company's TRÅDFRI gateway is already compatible with Amazon Alexa, Apple HomeKit, Google Assistant, and Sonos, with the potential for even wider device support in the near future.
With an increasingly crowded market of smart home products, the versatility of platform-agnostic tech provides customers with the ability to mix and match devices that make the most sense for their needs and design preferences. As much as Amazon and Google would like to lock users into a walled garden ecosystem, history has shown that the smart home consumer wants choice.
IKEA's platform-agnostic tech has them poised to maximize customer prospects while ensuring a clean user experience. Rather than handing their customers another siloed user experience where they have to meticulously manage devices within individual apps, they can offer truly smart furniture that's ready to "plugin" into their home network.
Take for example IKEA's new Symfonisk line of wireless smart speakers and smart bulbs and panels. With their TRÅDFRI system allowing API access to voice assistants, you could walk into your bedroom, tell your assistant "Start my Bedtime Routine" to dim your lights to a soft glow, and have your Symfonisk begin to play your bedtime playlist as your smart blinds lower. That's the sort of future smart house we can all envision.
In the IKEA network, the TRÅDFRI gateway system makes it all possible. Acting as a network hub device with an associated app, enables users to control their lights and devices individually in one place. Better yet, because it's platform agnostic, Google Assistant, Apple HomeKit, and Amazon Alexa all can connect and control your devices through the gateway. To make use of IKEA smart lights, however, it is required to have the TRÅDFRI unit.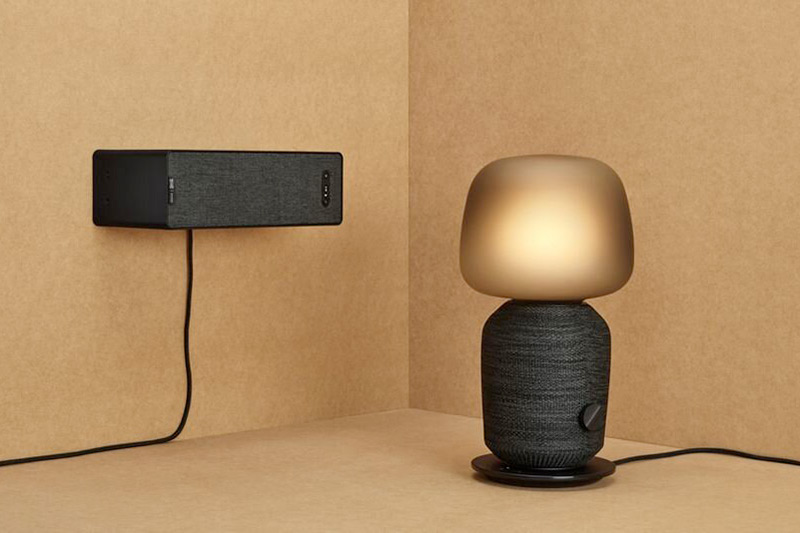 IKEA's Smart Home Ecosystem Close Up
Let's take a closer look at some of IKEA's latest Home Smart products.
Symfonisk Bookshelf Speaker and Lamp
The latest in the IKEA Home Smart line, this stylish Bluetooth-enabled speaker combo is the result of a partnership with Sonos. Through the TRÅDFRI gateway system, speakers can act independently of each other for different rooms and users through the Sonos App. The double benefit of a smart light lamp combo makes this an especially enticing mood-setting device.
Offering rich sound that fills the entire room that's come to be expected of Sonos speakers, this looks to be an excellent way to maximize room functionality for the minimalist at heart.
Floalt LED Panels
It's time to get creative with your lighting. With the Floalt array of LED panels in various shapes and sizes, all with customizable color temperature and dimming ability, your tasteful futuristic dream home can be within reach.
Urshult LED Cabinet Lights
For a luxurious way to enhance a kitchen, closet, or bathroom, the Urshult LED Cabinet Lights to create a cozy atmosphere instantly. Combining the Floalt and Urshult cabinet lights, suddenly an entire room's lighting can be controlled for ideal routines and activities — night lights, relaxing, or entertaining.
It's an exciting time with tons of possibilities on the horizon for platform-agnostic smart home tech. We can't wait to see what the visionary minds at IKEA dream up in this new venture.
‍