In one of its recent research studies, Parks Associates revealed that property managers of multi-family dwelling units see smart home technology as a major differentiating opportunity for their properties.
Connected Devices Increase Apartment Rents
Three hundred US-based Multi-family property managers surveyed by Parks shared that they expect to be able to increase rents 5%-30% by installing smart home products and services in their buildings. The technologies that seem to offer the most appeal were those that prevent theft and burglary – such as connected locks, smart access control systems, and smart package delivery.
This type of topline growth opportunity is striking in a rental market where amenities like fitness centers, swimming pools, and private meeting rooms have become standard.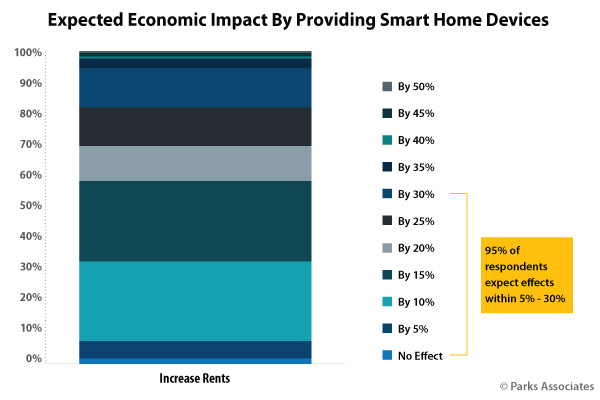 Connected Devices Streamline Operations for Property Managers
It's not only in increasing rents where property managers see potential for smart home technology, either. The same Parks Associates survey revealed that there is increasing demand for connected technologies that can streamline operations and cut overhead costs. Remote monitoring of HVAC systems and the ability to control lights in unoccupied units were among the technologies explicitly named by the MDU property managers as ways to improve building operations.
As the need for property managers to help their buildings stand out in competitive rental markets increases, the demand for property management systems (PMSs) that include smart home and connected building features will also rise. Whether it's technologies that can help property managers secure premium rents – like smart locks and smart apartments – to services that allow them to cut down on overhead costs – like remote HVAC monitoring, leak detection, and energy management – PMS providers need to develop a smart home strategy that will allow them corner this growing market.